American Farmer, July 2, 1819 (Vol I, No. 14, p. 106)
On July 2, 1819 Skinner ran the second half of a long edited extract, "Notices for a Young Farmer," originally appearing in the
Memoirs of the Philadelphia Agricultural Society
. In a section on poultry, the writer strongly advises against turkeys and geese but recommends an alternative: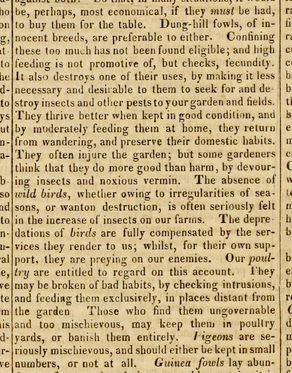 Dung-hill fowls, of innocent breeds, are preferable to either. Confining these too much has not been found eligible; and high feeding is not promotive of, but checks, fecundity. It also destroys one of their uses, by making it less necessary and desirable to them to seek for and destroy insects and other pests to your garden and fields....They often injure the garden; but some gardeners think that they do more good than harm, by devouring insects and noxious vermin. The absence of wild birds, whether owing to irregularities of seasons, or wanton destruction, is often seriously felt in the increase of insects on our farms. The depredations of birds are fully compensated by the services they render to us; whilst, for their own support, they are preying on our enemies. Our poultry are entitled to regard on this account.
Dunghill fowl were essentially mixed-breed barnyard chickens.
It is worth noting that domesticated fowl were the original "useful" birds, a source of human food with the special bonus of being insectivorous. While pure-bred fowl might need some confinement, dunghill fowl were perceived as benefiting from their free range diet and benefiting farmers by keeping down fly populations and devouring harmful insects in the garden. As with wild birds, any depredations in the garden were compensated by "the services they render to us."